"A note to Pound in heaven: Only one mistake, Ezra! You should have talked to women" --George Oppen, _Twenty Six Fragments_
---
Tuesday, August 03, 2004
Announcing:


The Birth of a Beautiful New Poetic!--from Patrick and Janet Herron:


Sofia Anne Herron !!
Sprogblog: birth announcement & link to photos

Born: Sunday 31 July 2004
12:51 PM--7 lbs., 3 oz., 19 in.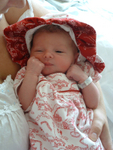 YaY!! Sofia!

Papa Patrick Herron sends along the birth-story:

Janet started labor at 6PM Wednesday, nearly two weeks past the due
date. After an incredible nonstop sleepless 60-hour effort by Janet to
attempt a drug-free delivery, we finally decided to alter our course and
have the baby at UNC Hospitals. A small amount of rest and just the
slightest gentle nudge was all that was needed. Janet was of course
still able to deliver under the care of our Nurse Midwife Sher DiMaggio.

"Janet is healthy and happy and so too is Sofia. At least 10 fingers
and no more than 10 toes.

"Extra-special thanks to our friend Robin Verhoeven and Anne Adams (Jan's
mom) for their constant support and hard work during the week leading up
to the birth. Also thanks go to everyone at the Women's Birth and
Wellness Center for their peerless expert care.

Thanks, Patrick: we love Y'all here, and send lots of big texfiles hugs!